Bike Short for Women: Things to Remember Before Buying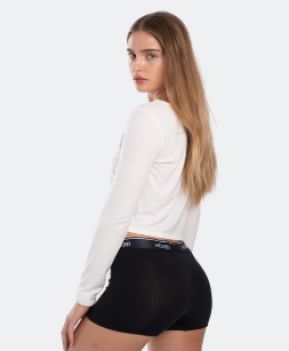 Initially, women were not sure about whether to wear bike shorts out in public, but since big names, Kim Kardashian, Khloe Kardashian, and Ariana Grande wore them during promotions and awards shows, women suddenly got confident that these sexy pair of pants can be worn out in public. 
As influencers and bloggers have started posting their pics in bike shorts on Social Media with their beauties looking extra hot, the public has just gone crazy for these snug-fitting pants.
So if you are also planning to buy bike shorts, here are a few things you need to remember before buying: 
Comfort
First thing first. Bike shorts must be comfortable. There are many inferior bike shorts available in the market that is not comfortable at all. So make sure your bike shorts are made of super soft material, such as a combination of micro modal and elastane, nylon and spandex, or lycra and spandex. Remember that bike shorts are worn without underwear. So if you are planning to wear them out in public, make sure you should be comfortable wearing them. If you are wearing them for the first time, you may opt for thick bike shorts. However, thin bike shorts are equally good even better because they are more comfortable and breathable. But keep in mind; these bike shorts are going to hug your butts tightly. Initially, you may feel like you are not wearing anything at all, but slowly, you will fall in love with them for their supersoft touch, enhanced stretchability, sleek looks, and moisture-wicking properties. 
Inseam length and waist size
The next thing you need to look for is the size. Bike short for women are available in different sizes ranging from S, M, L, XL, XXL, and 3XL. Measure your waist length and choose the corresponding size mentioned in the size chart. Usually, bike shorts have a high waist that runs down just above your knees. But there is no strict rule that your bike shorts must end up above your knees. You can try shorter bike shorts or even longer. Bike shorts come in a variety of inseam lengths. Shorter bike shorts work great for wearing them out in public, parties, or while hanging out with friends. But if you are planning to wear them out in the office or college, an inseam that is just above the knee would work great. This will be long enough to stay in place and prevent chaffing of the inner thigh while walking or indulging in physical activities. However, for winters, inseam that that covers the knees, or even a full tight that goes to the ankles, works best. 
Material
The next thing you need to consider is the material of the bike short. Good bike shorts are moisture-wicking, shrinkage resistance, durable, shading resistant, sustainable, and super soft. A moisture-wicking fabric means it quickly moves sweat to the outer surface of the fabric and dries rapidly so that your sweat doesn't saturate the fabric. The result is that the fabric touching your skin has a dry and non-sticky feel, which prevents chafing and moves along with the skin. You have plenty of options available to choose from, ranging from lycra, nylon, spandex, micro modal, and wool. Nylon, micro modal, and spandex bike shorts are the most preferred ones for women as they have all the qualities of ideal bike shorts. 
Panels and waistband 
Another thing you need to consider is panels of bike shorts. High-quality bike shorts usually have six to eight panels. Less expensive bike shorts usually have fewer panels of fabric. They all fit a bit differently. To find out the best fit, try on different styles. The waistband is another thing that you need to consider. Make sure it is not too tight, but tight enough to hold things at the right spot.
Looks
All my bike shorts look hot. It's just you have to find your style. Bike shorts are shiny and available in a vast range of colors. And as they fit snugly, they anyway look good. But still, you can express your style by choosing bike shorts that represent you. The sky is the limit in bike shorts colors, patterns, and designs.     
So these are five things you need to remember while buying a bike short for women.