How to Choose Wedding Bands for Women?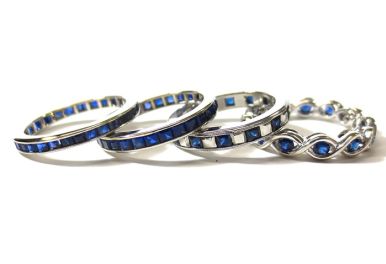 Choosing wedding bands is no mean task. When it comes to choosing wedding bands for women, you can multiply the stress manifold! With the sheer variety of wedding bands now available to choose from and taking into account individual preferences, buying one can be a harrowing experience.
But it shouldn't be; choosing wedding bands for women should be a joyful experience. Shopping for wedding bands must be memorable but for all the right reasons.
Consider these tips to choose wedding bands for women.
Plan Ahead
It is best if a couple discusses plans for the wedding band together. When it comes to buying wedding bands, it is best to get some clarity beforehand. It is a good idea to reserve the surprises for the engagement ring (if you need to).
Some couples like to match their rings, others not so much. Then there are those who like to sync the ring designs but only in terms of the base metal. So, it is best to discuss these things before heading to a store. A bit of planning will help you save a lot of time and headaches (even arguments) at the time of the shopping.
The planning must include –
– The budget: Setting aside a range for the budget helps to reduce the shopping time. It will also help you to find your perfect ring without wasting much time as you will know where to look for it.
– The lifestyle: Your wedding band is something which you will wear every day. So, it is best to choose one as per your lifestyle. If you play active sports or work with small tools, a simpler ring with a no-fuss design may be more suitable for you. Platinum works best if you work in an industry where the ring may encounter more wear and tear.
– The individual preferences: Some women may prefer a dainty ring with a single diamond, while others may want an eternity ring in gold or platinum. You may prefer sapphires instead of diamonds or perhaps a simple gold band to match your partner's ring exactly.
– The match factor: When buying wedding bands for women, another important consideration is whether to match it with the engagement ring or to choose a contrasting piece. You can choose contrasts in terms of the metal (white and yellow, or rose with white) or the pattern of the ring. Your ultimate choice must not look jarring to your own eye years down the line. So, think carefully about this aspect when choosing your wedding band.
– The wiggle room: There has to be some wiggle room in terms of the budget and the preferences. Just how much – really depends on the couples.
Shop Online
It is best to shop online for wedding bands as you can visit multiple stores together from the comfort of your own home. You can shop anytime and from anywhere. You wouldn't even need to stop yourself from arguing with your partner for the sake of the store staff!
Many online jewelry stores are stocked with inventory to suit specific budgets and preferences. You can read the description of the rings and choose one in your exact size.
Reputed online jewelry retailers will always supply you with an authenticity certificate with your ring. So, you needn't fear about the quality of the jewelry.
Also, check the return policy of the online retailers before shopping from their stores. 30-day return policy can be nice to have in case you wish to return or exchange the ring.
Be Flexible
It is best to be a little flexible when shopping for timeless jewelry pieces. What if you found something better in terms of the design or the pricing, but the ring may not be exactly how you envisioned it?
So, feel free to browse the entire catalog of the retailer before finalizing your selection. Oftentimes; you cannot envision how a certain jewelry piece will look until you have seen its image. Perhaps you can buy a rainbow sapphire band at almost the half price of your original ring idea, and it may look even more stunning!
So, happy wedding band shopping!