Steps to Make False Eyelashes Look Natural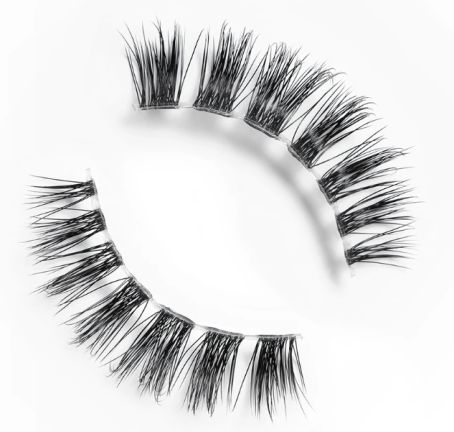 Every woman dreamt of having dense and long eyelashes as help in creating a good impression of the look. Nevertheless, not everyone has beautiful eyelashes, so experts in the cosmetic industry have come with natural looking false eyelashes to make life easier for women. Nowadays, many women are using these eyelashes to complement their make –up for getting a more natural look and improve their personality. To get the best look you should create a line of tabs with the eyeliner. Pick eyeliner that is waterproof and has the same color as your skin or black color. 
For creating an illusion of perfect eyelashes, make a thin line near the eyelash line but also ensure that your pencil tip is flat. This will create an illusion that you have a thicker eyelash line. Moreover, we will be discussing more few pointers that make your eyelashes look as natural as possible. 
Buy lashes having invisible bands and wear trio or single lashes
Buying false lashes that have no thick black stripe on the base is the safest and the best way to get a perfect look. The majority of the lashes have a thick black line, which holds them together but can be easily noticed and disrupt that natural, effortless look. If you are unable to find lashes with an invisible band, then look for one with the thinnest black base, as this will also give you a good look. 
Another thing you should keep in mind is to avoid wearing long strip lashes that are quite difficult to apply, as you need to deal with a very long strip of hair. For reducing this dilemma, lessen the number of lashes you need to work with. Trio lashes have three lashes with a single base and single lashes need to be applied individually. The trio is very easy to put on whereas, singles provide you a greater degree of control and you can meticulously apply each lash to where you want it whether on the entire lash line or the outer corner. 
Rather using white glue choose dark lash glue and apply false lashes on your real lash line 
Should not black glue will be noticeable more than a white one? Actually, clear or white glue will give a semitransparent look. When the white glue becomes dry, it will leave behind a noticeable gray or white cast. On the other hand, black glue will end up closer to the original color of your mascara or lashes. Please remember, less is always more. The less glue you will be applying, the more precise it will seem and will make you feel and look like you have put on your eyeliner without any hassle. 
It is quite normal that everyone commits the mistake of applying the lashes on the eyelids rather in the lash line. Experts recommend that for natural-looking false eyelashes; apply the lashes on the bottom bashes of your lashes as much close to the lash line. This will make the false lashes mix in more with your real lash hair and look more natural. 
Put mascara for blending fake and real lashes
Despite doing everything, the natural lashes are not as dark as the color of the false ones. After you apply the false lashes, it is best to use mascara for darkening the natural color of the lashes but at the same time bind the two lashes together. 
There is no limit to put the eyelash extension and you can apply, as many times you want even for years. These types of eyelashes give you a complete makeover without damaging your eyelid or eye or natural eyelashes as it is a very delicate procedure with your skin. There are no special requirements to take care of the lashes. You can able to have a healthy lifestyle and will work perfectly even when you are in the sea or swimming pool. Even though putting the lashes is a complicated process you will not experience any pain, itching or burning. You need to avoid high temperatures including facial vapors, sauna baths, and others. Contact a professional for putting the lashes in the right way so that you do not have to face any problem in the future.