Should I Use Tanning Lotion When tanning?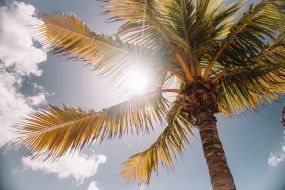 While some may think tanning is as simple as laying down and basking in the rays, there is much more to it than that. Indoor tanning helps you maintain that healthy glow year round, but achieving your ideal tanning results is going to take some time—and an excellent tanning lotion that you can keep by your side. So what is it about tanning lotions for tanning beds that make them so vital to your tanning routine?
What are Indoor Tanning Lotions?
Tanning lotions for tanning beds are designed to help you achieve darker results than you would be able to on your own. Unlike outdoor lotions that have SPF in them, indoor tanning lotions generally do not include SPF and instead work to amplify the results under UV lighting. These lotions are not suited for outdoor use, and outdoor lotions should never be used in a tanning bed as they can damage the acrylics. Specialized tanning lotions are designed to improve results under UVA lighting found in tanning beds and are a necessity for anyone planning to make indoor tanning part of their routine.
Maintaining Moisture and Protecting Skin
Tanning bed lotions do more than help you achieve darker results; they also moisturize and protect your skin. Specialized tanning lotions for tanning beds come jam packed with vitamins and nutrients that protect and moisturize skin while helping maintain a healthy glow. Whether you are outdoor or indoor tanning, light exposure can take a toll on your skin. You should always use lotion to protect your skin and provide much needed hydration.
Understanding Your Skin's Needs
When it comes to tanning, skin is often separated by types. There are six main skin types, with type I being pale and type VI being very dark. On the low end of the spectrum, you have individuals with very fair skin that almost always burns. On the higher end, you have skin that does not burn and always tans to a deep, dark color. Understanding where you fall on the spectrum will help you understand what tanning lotions for tanning beds are the best fit for your skin, as well as how to time your indoor tanning sessions. Those with light tones who suffer from burning will need to pay close attention to protecting their skin and, while burning may not be an issue, those with darker skin also need to take extra steps to protect their skin. If you are unsure of what skin type you have, you can always ask the attendants at your local tanning studio for assistance.
Types of Lotions
There are many different types of tanning lotions, and each comes with its own perks. One of the more common types of tanning lotions for tanning beds is bronzers. Bronzers help tanners achieve instant results and are ideal for those looking for a quick tone boost. The drawback is that these lotions have a shorter lifespan and their results fade faster than other methods.
Tinglers gained their name from the cool, tingling sensation they leave on your skin. These tanning lotions for tanning beds are designed to invigorate melanin production, boosting your tanning results and helping you reach darker results than you would otherwise be able to achieve. These types of lotions are often considered more advanced, and while they are the go-to for many tanning enthusiasts, others find the tingling sensation uncomfortable.
Skin Sensitivities
Your skin will come with its own unique needs and preferences. While some tanners enjoy tropical scents, others may be sensitive and will prefer hypoallergenic lotions. If you find your skin is reacting to lotions, don't give up! There are a number of options out there, including unscented, so don't be afraid to test out different products to find your perfect match. A good approach to testing tanning lotions for tanning beds is to apply it to a small area of skin first to see how your skin reacts.
Finding the Right Lotion
Should you use tanning lotions for tanning beds? Always! The real question is what lotion you should be adding to your bag. Finding your perfect fit can take some trial and error, but don't be discouraged if you don't find your ideal lotion right away. Once you do find the perfect lotion, your skin will thank you!